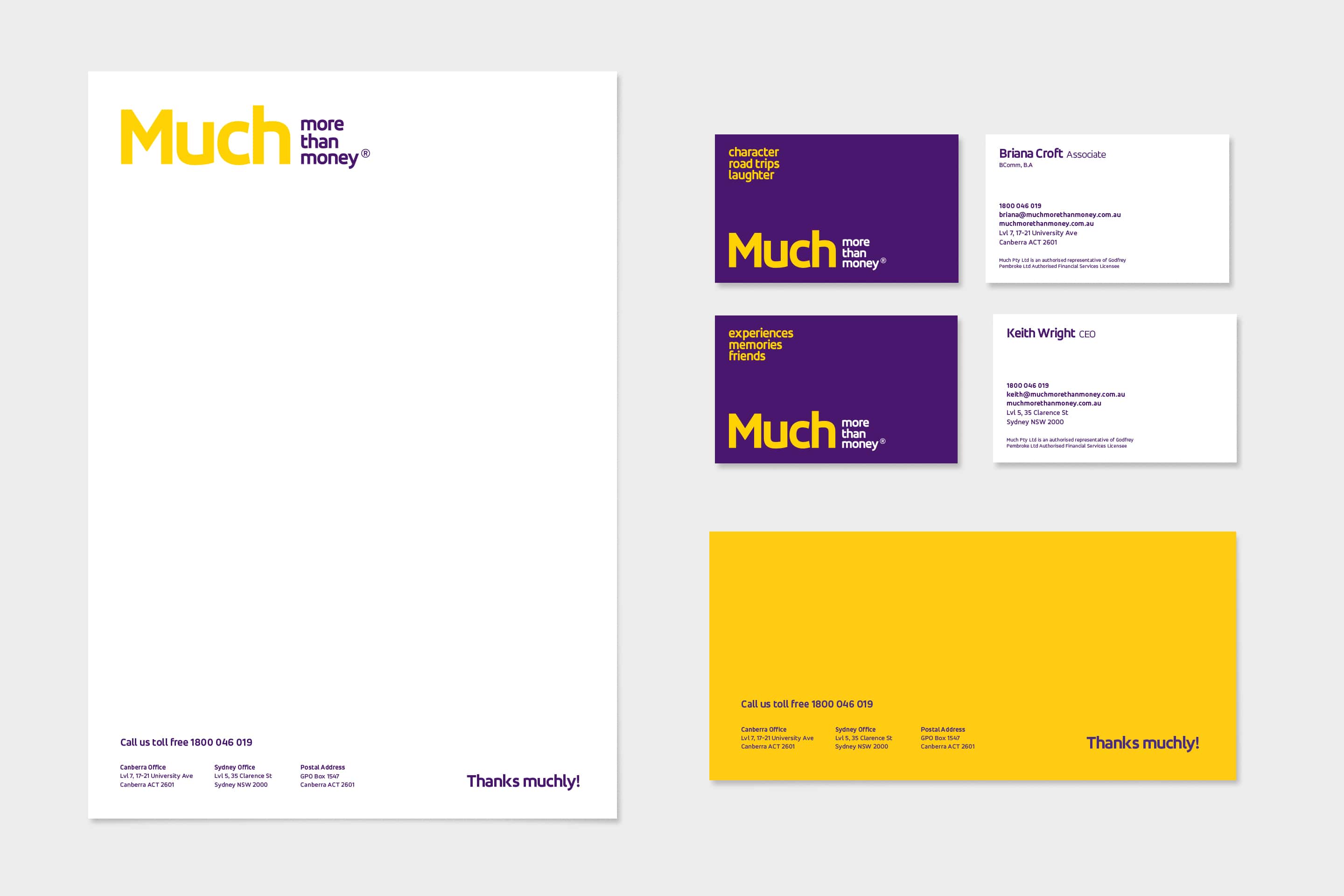 Much
More than money
Background
Maylok was a financial services provider based in Canberra. They primarily worked with middle to upper middle class clients ('wealth accumulators') and retirees, but with the ever-changing demographics and psychographics of their target audience, the negative press about financial advisors after the global GFC, and a new 'retail' head office planned for Sydney, they needed a new name and brand identity to represent and reposition their business for success into the future.

Positioning and naming
After reviewing Maylok's existing research and business plan, Coast conducted its own exploratory research. One of the key insights discovered was Maylok believed that money was only a means to an end, and its primary focus was to empower clients to live their life with purpose. 'Purpose' of course comes in many varieties and differs from person to person. How refreshing! With this powerful idea in mind Coast brainstormed over 100 different naming possibilities. The name 'Much' and the slogan 'More than money' was selected as the outright winner. It ticks all the boxes: meaningful, positive, ownable, unique, and easy to remember. In fact, the slogan was so successful that one of Australia's largest banks used it six months after Much was launched! A lesson in the importance of trademarking your intellectual property.

Launch
To launch the new name and brand identity to loyal customers, and generate interest and participation with new clients, we created 'the little box of muchness', a gift box of fridge magnets with words to encourage people to express their thoughts about their dreams and aspirations.

Advertising
The distinctive palette was fully exploited in advertising using bold, on-brand statements. The ads ensured the company stood out in the normally staid financial sector. This was bright, daring and new.

Stationery
There's no point asking your clients to believe in much more than money unless you demonstrate it yourself. With this in mind we asked all staff to list their favourite things, and we used their unique words and statements on their business cards to help stimulate more wide-ranging discussions.

Tone of voice
The financial services industry typically uses language that can be confusing to the general public, so we made sure Much's 'voice' was clear and simple, presenting an honest and friendly face to clients. After reviewing Much's services we grouped them into categories and came up with suitable phrases for each that fitted with their new tone of voice. And to help continue with the right tone, we brainstormed other phrases for the company to use into the future, to maintain and grow the muchness.

Digital
For the online experience we created a message-driven, one page website that makes full use of the bold contrasting colours. It is responsive to tablet and mobile devices and uses simple animations to engage the viewer.

Photography
Financial advisers are notorious for using cheesy stock image photos in an effort to portray an idealistic lifestyle or perceived wealth. A cornerstone of Much's philosophy is that everyone's dreams, goals and aspirations are unique so they don't dictate what they might be. The only photography is of staff, which gives a real face to the brand.

"As part of our selection process we met with numerous marketing and branding companies, from local, national to international, and none spoke with the passion or conviction of Coast. Great fun to work with―the team delivered resoundingly." Keith Wright, CEO.